Influences & experiences
1985:  First vocal performance at age 6.  (The Monkees' "Daydream Believer")




1986:  Began private drum lessons.  First performance of an original composition ("Cruisin'").




1990:  Formed the heavy-metal duo Black Shrapnel with guitarist Shaun Dickerson.  Influences included Bon Jovi, Motley Crue, Faith No More, Led Zeppelin, Pink Floyd.

1994:  First solo acoustic performance ("Yesterday," piano/vocal).  Attended the Raleigh performance of Pink Floyd's Division Bell tour.  

1995:  Became Drum Major of Glenvar High School Marching Band.  

1995-97:  Percussionist, bassist, vibraphone & tympani soloist for Pride of Salem Marching, Jazz & Concert Bands.  Percussionist for Roanoke Youth Symphony.

1997-2000:  Studied Composition, Music Business, and percussion at Radford University.  Percussionist for Lynchburg Symphony Orchestra.  Performed with Jimmy Dean ("Big Bad John").

1998-2001:  Employed at Ridenhour Music, Southwest Virginia's leading musical instrument retailer.

1999:  First CD of original music, Is.  Influenced by Phish, Beatles, Radiohead, Ben Folds.




2000-01:  Performed original music with Sonic Fusion Orchestra and Phantom Power.  Influenced by Bela Fleck, The Wootens, John Scofield, Medeski Martin Wood, Jazz Mandolin Project, Dave Brubeck, Mahavishnu, as well as George Micheal, Prince, The Cars, Dire Straits and other 80's pop-rock.

2001-2003:  Studied Music Performance at Virginia Commonwealth University.  Played drums for Escalator, The Wild One, and Boneanchor.  Interned at Sound of Music Studios.  Released an EP, On, and an original opera entitled "Television and Other Forms of Time Travel."  Received a B.A. in Jazz Studies, majoring in Drum Set and minoring in Jazz Piano.  




2004-2006:  Released Leaving & Returning.  Keyboardist, vocalist, and engineer for Shawn Nelson & The Ramblers.  Performed with The Portal, Ryan Bingham, Hunny Bunny Hotbox burlesque show, Nelson Ray & Friends, LZ Love, Jimmie Landry Trio, and the Duke Ellington Orchestra.  Started a new group called Partyboobytrap.




2007:  Performed with Particle and Partyboobytrap at Club 115.  Began teaching private lessons at Red Leaf School of Music.  Became Minister of Music at New Beginnings Fellowship Ministires.  Worked as a Musical Greeter for HEB.  Performed with Grass, providing live soundtracks to the silent films Metropolis and A Trip to the Moon.  Provided music for a short film entitled Time For Work.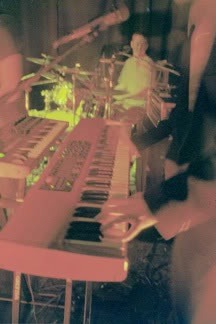 2008:  Slept late, wrote a song, ate a sandwich.  Performed original music and The Nutcracker with The Invincible Czars.  Worked with LTMR (Less Talk More Rock), a group of 8-10 year olds participating in Red Leaf School of Music's summer camp.  Taught music, language, social studies, and peace education at Live Oak Community Montessori School.  Welcomed my niece, Aurora Abigail Louise Chastang, to the world.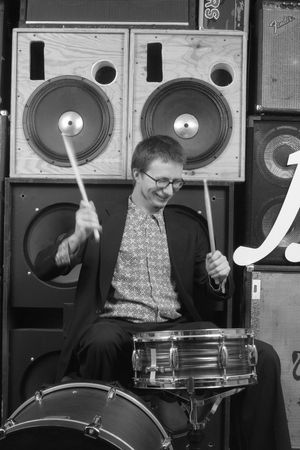 2009:  Performed with Invincible Czars on their CD "Fortissimo," a live film score for Fritz Lang's Destiny, and a new arrangement of Tchaikovsky's 1812 Overture.  Released The Mellow Moods of Louis Landry.  Worked with the Rock-A-Lots at Red Leaf's summer camp.  Performed and toured with recording artist Charlie Robison to promote his album Beautiful Day.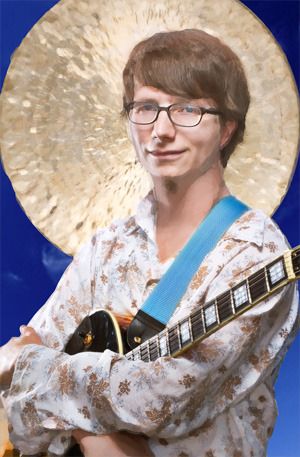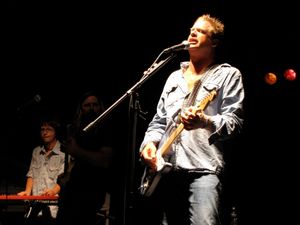 2010:  Steady touring with Charlie Robison.  Wrote, arranged and performed a new score to the silent film THE UNKNOWN with The Invincible Czars.  More private & group lessons through Red Leaf.  Started working on a record of covers.  And I got married to the love of my life, Shea Broussard!

2011:  Performed with DeadEye, Austin's Grateful Dead tribute.  Moved to Durham, NC.  Started a new group called The LL Orchestra.  Began teaching music lessons and preschool.  Started working freelance AV, stage mangement and sound engineering in the Triangle area.  Started working with yodeling banjoist Curtis Eller.

2012:  Saw the release of The Invincible Czars' 1812 Overture, in time for the 200th Anniversary of Napoleon's invasion of Moscow.  Performed and recorded with Ironing Board Sam, Dmitri Resnik, and The Dye Wells.  Began recording The LL Orchestra's first project.  Participated in The Golden Hornet Project's String Quartet Smackdown.  Finished this bio right before bedtime.

2013:  Released The LL Orchestra EP, recorded an album with Curtis Eller, wrote a new album of originals.  Began teaching lessons at High Strung School of Music in Durham.

2014: Saw the release of Curtis Eller's album "How to Make it in Hollywood." Volunteered with Durham Jazz Orchestra. Toured the UK and east coast U.S. with Curtis.  Recorded a new solo album.  Released a new single, "I Know a Guy," in December.

2015: Album release and concert premier of "JJ vs the Digital Whale." Got a great gig as MD for "Paris 76," an indie theater production that sold out an 11-show run in Durham. Joined my lovely wife Shea's new band Shady Darling and the Velvet Curtain.  Toured the UK again.  Performed the Rocky Horror Picture Show and the Berlin Brothers Christmas Concert at Mystery Brewing.

2016: Drummer for "Rubber Peacock," a fundraiser for Durham's LGBTQ Center; Composer & live electronics for "The Undergrounders," a collaboration with choreographer Stacy Thomas Wolfson;  Musical director for "Bob: A Life in Five Acts," an undergrad production at Duke University; Started "Classic album Hoot Nite" at Mystery Brewing with "Dark Side of the Moon" and "Stop Making Sense";  Pianist for "The Piano Has Been Drinking";  Premiered an original video for "I Know a Guy" with local coverage from Indy Week;  Played LL Orchestra gigs in Durham (The Shed), Chapel Hill (The Cave) and Pittsboro (City Tap);  Original Score composer for "Maccountant";  Performed solo at Arcana;  Played gigs with Shady Darling including The Deadly Beautiful Cabaret at The Shed and Mystery Brewing;  Repeated the Rocky Horror Picture Show and the Christmas concert with the Berlin Brothers.

2017:  Reprised drums for "Rubber Peacock 2";  Performed Nirvana's "Nevermind" in a solo performance at Mystery Brewing;  Served as Musical Director and Bandleader of The LL Orchestra for a Duke Theater Production of "Jacques Brel is Alive and Well and Living in Paris."
2018: Artist residency at Mystery Brewing.  Performed Stop Making Sense at Motorco.  Started a surf rock cover band called Rollin' Dynamite with Eric Mrozkowski, Mike O'Neal, Luis Rodriguez and Chris Church. 
2019: Released "A Stepladder to the Stars" as a series of singles featuring Shea Broussard, Emily Levinstone, Eric Mrozkowski, Dan Ruccia, Kurtis Keber, Luis Rodriguez, Phil Rodriguez, Josh Robins, Jessica Flemming, Kim Deschamps, William Dawson and Alexandra Valladares.  Played drums on The Handshake Deals' debut album (produced by Joe DeJarnette).
2020: Released several singles in the ongoing series of Talking Heads covers.  Shifted toward remote instruction in the wake of Covid and no gigs.  Performed first livestream with Rollin Dynamite at Mrozfest.  

2021: Released "Take Me To The River (feat. Akina Adderley)".  Released "Coronation," Rollin' Dynamite's debut single.  Released "There Was a Formula," an album of Talking Heads covers featuring Luis Rodriguez, Jessica Flemming, Shea Broussard, Erik Lars Myers, Donovan Cheatham, Cameron McLaughlin, Jake Dempsey, and Casey & Laura from The Handshake Deals.